Description:
This pad has precision rayon flock fibers coated onto a poly/cotton fabric backing of a uniform thickness and flatness which conforms accurately to any tool curve, giving a more perfect curve reproduction than what is normally achievable. The very close fibre formation, combined with the softness of the nap, ensures that the pad holds the polish evenly over the pad surface for maximum polishing. The specially developed adhesive used to adhere the flock to the base material reduces flock loss in the polish to a minimum.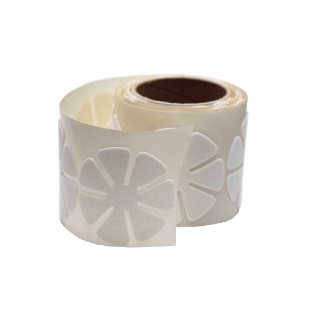 Physical properties.
| | |
| --- | --- |
| Adhesive: | Excellent removable acrylic adhesive providing good creep resistance and clean removability. |
| Carrier: | Poly / Cotton Fabric Face side White rayon flock fibers |
| Abrasion: | Wet Taber Abrasion Resistance (CS/500g):500 cycles |
| Total Thickness: | 0,71 - 0,83 mm |
| Liner: | White Glassine Paper |
| Temperature resistance: | Up to +55ºC |
| Shelf Life: | 12 months from dispatch when stored in original cartons at 21°C and under 50% relative humidity. |
More information.
Polishing Pad II is available in custom shape on request.
Do you have any questions or would you like to order our Polishing Pad I? Please contact us via our contact form.