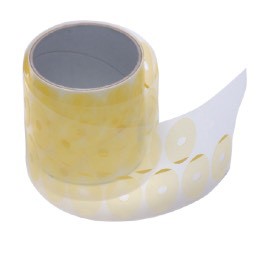 Description:
Super Hydrophobic Coating on top of lenses will cause a very poor adhesion for edging pads.
Surface improvement Pads GOLD are designed to adhere to lenses with a Super Hydrophobic Coating. This kind of lenses are specified as Super Hydrophobic or Oleophobic lenses.
SIP GOLD has a special engineered adhesive that attaches to the latest generation Super Hydrophobic coatings. It is provided with a conformable filmic backing that forms perfectly to the convex of the lens. Use your regular edging pad on top of this SIP GOLD PAD.